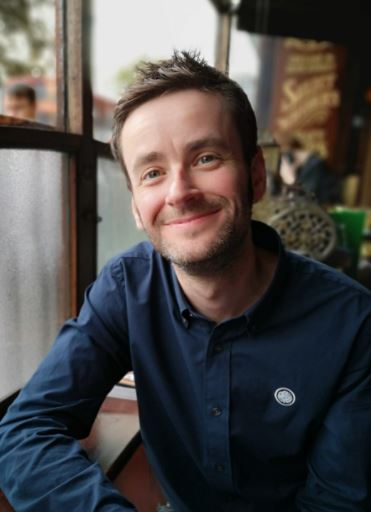 Following some recent big wins for Apollo's consultancy team, we thought we would let you hear from the man behind it.
Paul Ellerton is the Director of Consultancy at Apollo, so we sat down in Paul's living room (over Teams) to talk about his journey so far, the vision for Apollo's consultancy, what makes our approach different and why this makes such a difference to our clients.
My approach for Apollo's consultancy team is simple. Give the client an answer.
The journey to your current role:
In all honesty I fell into engineering.  I studied Maths and Geography at Leeds Uni but was frustrated about the opportunity for any crossover.  In my second year I came across computational fluid dynamics (CFD) analysis and really enjoyed it, modelling river systems with computers essentially.  I loved it so much I did a Masters in CFD.
My first job was designing offshore separation systems on the Isle of Wight.  Primarily I was working on the desktop engineering piece but also matching up results with full scale testing in the lab.  I moved north for a stint in another consultancy specializing in fluid dynamics before I joined Apollo, where I have been for the last 8 years
What makes me enjoy my job is the people mainly. Both internally and externally with our clients.  I'd hate to work someplace where I didn't enjoy coming in every day.  That and providing answers to problems.  Getting to the answer can take time but keeping the question in mind is key and maintains what we are there to do.
You have been at Apollo for nearly 9 of our 10 years, what's the secret?
Even from first discussions I could tell the company wanted to go somewhere and grow and that it wouldn't just be another consultancy.
Looking at doing things more efficiently was evident from the outset.  It also comes back to what I enjoy about job and to the people again.  The core values of Apollo really resonated with me.
You must have a favourite project?
Rather than trying to name drop the biggest project I can, I am going for one of the most straight forward.  Our of our clients had a production line that was blocked with wax.  Before they came to us, they had devised a plan to flush it out with something and had prepared to carry out what would have been an expensive task.  In fact, the team was set to carry out the work offshore so time was very much against us.
They came to us to validate that everything would be ok.  The analysis behind it was not straight forward and needed us to string together a few methods and software but the evidence was unfortunately overwhelming that it would not be a success in the way they had proposed.  It was a complex problem without a simple solution.
Within 2 weeks of the first discussions, we had proved that the clients method was not viable and saved a lot of money in minimizing time wasted.  However, we could see through the analysis and engineer experience what would and eventually did work so a very satisfying conclusion for everyone.
Sometimes the biggest challenge is pushing back against the client. Conversations can be difficult but for us, we have to add value. It's the only true way for us to succeed.
How would you succinctly sum up what Consultancy does? 
Our front end and through life consultancy team cover concept through to detailed design across developments, operations, life extension and decommissioning as well as process, fluids, technical safety, integrity, fluids and subsea.
We don't just want to do a good job for our clients. We want them to trust us fully. We are an extension of them and their decision making so we need to make sure that we not only deliver on time and on budget but what we deliver is the right solution. This allows us to build long lasting relationships where the client knows they have the support to help formulate a larger project but also the reactiveness needed to support outside office hours.
Our strategy is to continue to grow our market share in the UKCS by challenging the delivery models of some of the more established names. We truly believe we can offer a different approach, relationship and a safe deliverable at a cost that is competitive. We are now providing support across the Middle East, Africa and Asia and over the next 3 years, look to continue our growth into these markets.
If you are starting to think about a project or something has emerged and you need a solution fast,  speak to Paul or any of the consultancy team at Apollo on consultancy@apollo-oe.com