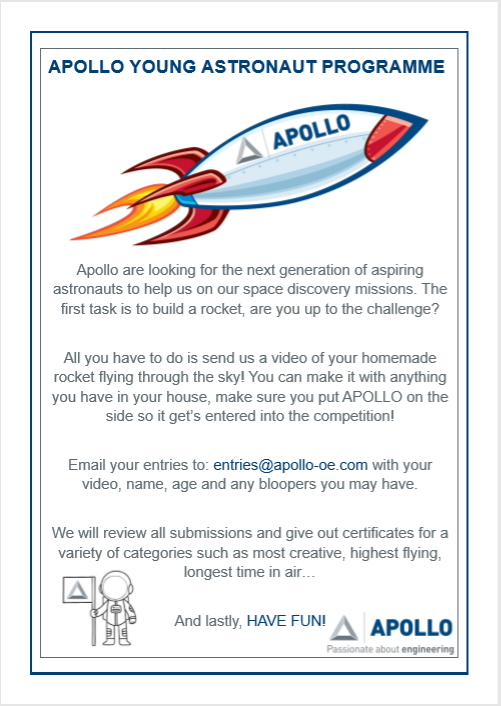 Everyone at Apollo was disappointed when NASA in Aberdeen was postponed and with the Easter holidays now here we thought we would support parents to teach their children about STEM (science, technology, engineering and mathematics) and create a fun activity that will keep them entertained all afternoon!
Apollo are looking for the next generation of aspiring astronauts to help us on our space discovery missions. One of our core values is future and we are passionate about inspiring the next generation of engineers.
The first task is to build a rocket, are you up to the challenge?
All you have to do is send us a video of your homemade rocket flying through the sky! You can make it with anything you have in your house, make sure you put APOLLO on the side so it gets entered into the competition!
Email your entries to: entries@apollo-oe.com with your video, name, age and any bloopers you may have.
We will review all submissions and give out certificates for a variety of categories such as most creative, highest-flying, longest time in air…
And lastly, HAVE FUN!
Attached is an instruction sheet for adults with some STEM questions (and answers!) for parents to ask children during or after the making of their rocket to teach them more about the engineering behind building and flying their rocket.
The deadline for the competition is Thursday the 23rd of April.
We will begin to send out certificates on the Friday 17th of April.
We can't wait to see all your rockets! Good luck!