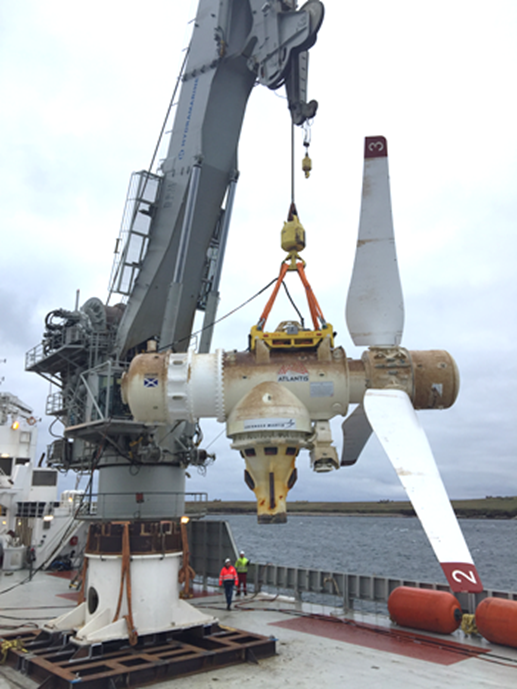 Apollo has supported the pioneering Meygen Project with a series of transportation and installation engineering assignments over the last 8 years.
From engineering assessment of quick connection systems, to design of back deck spreads and yard support structures, Apollo has worked closely with the Meygen team to optimise the marine operations and release value to the project.
The Problem
The Pentland Firth is famous for its very strong tidal flows.  In many ways, it is an ideal tidal stream resource, with a predictable, high energy current profile.  The first phase of Meygen's development saw the deployment of bottom-mounted tidal stream turbines, including Andritz Hydro Hammerfest's AH1000 device and SIMEC Atlantis's own ARL1500 design.  These both comprise a steel gravity base structure, with a docked turbine nacelle that is lowered through the water from a crane vessel.
Through the project to date, a key challenge has been to achieve deployment and recovery operations in the very short spells of slack tide, without incurring unnecessary boat hire costs.
The Solution
Apollo were first engaged to perform a marine operations study, looking at the criticalities for cost-efficient transportation and installation methods.  The team were then tasked with the engineering verification of SIMEC Atlantis's unique quick connection system (QCS).
A key challenge was to understand the complex loading regime across the QCS and to build a robust design basis for the assessment of mechanical parts.
The team supported Meygen and SIMEC Atlantis through the development phases with innovative mechanical engineering solutions.  Moving into offshore operations, Apollo provided a series of seafastening and dynamic lift designs that helped reduce boat costs to the project.
At all times an innovative approach was taken, for instance, to maximise operating envelopes while simplifying mobilisation works.
What did the client think?
Repeat work is the best indicator of performance, and we are pleased that Meygen continues to engage Apollo for technical assignments.
In 2019, members of the client team worked with Apollo on a joint paper that was given at the CORE Conference.  Details can be found by clicking this link.