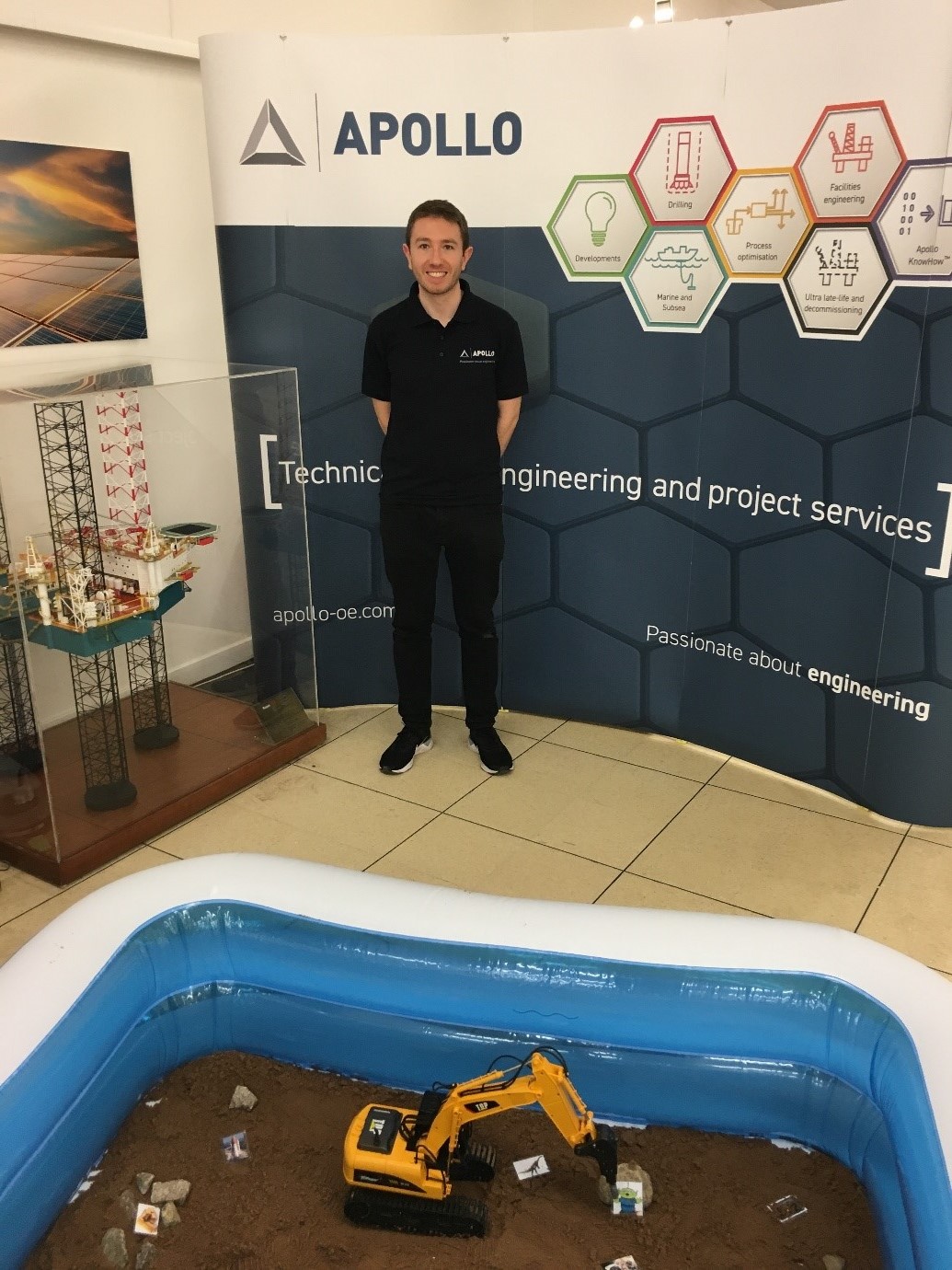 Born and raised in Aberdeen, I also stayed local to study Mechanical and Offshore Engineering at Robert Gordon University. Towards the end of my time at university, I went through the thrilling process of applying for graduate roles and undertaking the various online tests, assessment centres and interviews required – looking back I did only apply to companies within the Oil and Gas Industry, probably because oil was booming at over $100 per barrel and with Aberdeen being the 'Oil Capital of Europe' I rather naively thought that landing a job would be easier than it was.
Thankfully, just a few days after graduating in July 2014 I went straight into work as an Engineer at a riser design consultancy. I hadn't done any technical placements over my years at university, so the office environment was a new experience for me, but an enjoyable one where my days were spent performing drilling riser design and analysis for various operators within the North Sea.
Unfortunately, my time entering the industry coincided with the start of a major oil price crash which saw oil prices drop from over $100bbl to ending the year at around $45bbl, resulting in thousands of job losses. Over the course of 2015, the price continued to fall, however, I remained in my engineer role as the company had a strong backlog of projects. Unfortunately, with no light at the end of the pipeline and North Sea drilling coming to a halt, I became another redundancy statistic in March 2016. This experience is why I fully understand the need for a strong order book as it kept myself and others in a job through a lot of the hard times – but on this occasion, the industry just couldn't recover fast enough.
In the months immediately after being made redundant I applied for several roles I found online and handed my CV around at a few careers and industry events, however, I can't remember ever getting a reply – even an official rejection. This, combined with the still volatile state of the industry, made me doubt my future in engineering and oil and gas to the point where I enrolled in a year-long post-graduate course to study Construction Project Management in the hope it would open the door to a new industry. Although the job hunt was largely put on hold whilst I was back at university, one evening I discovered an Engineer vacancy at Apollo through LinkedIn. I read it through thinking that the role description was perfectly suited to me with my existing skills and previous engineering experience, so I applied and on 10th July 2017 I walked into the office for the first time as an Apollo Engineer. Looking at the oil price graph in the figure, it's interesting to see the oil price was only around $8bbl greater than it was when I was made redundant, I suppose the 16 months in between allowed the dust from the crash to settle and a sense of stability to return to the industry.
I am delighted to now be at Apollo and grateful for the huge range of opportunities I have had. I knew I would develop professionally here as it's a commitment made by Apollo in their core values however the competencies and skills I have established already has surpassed my expectations through being given real responsibility on projects including creation of subsea risk-based inspection programs, brownfield modifications, FPSO module design, a structural integrity role for a North Sea platform and currently the mechanical engineer for a long term FPSO sand management project.
Then there's also been the non-project work highlights, most notably being involved in NASA in Aberdeen, a series of events aimed at inspiring the next generation in STEM careers by bringing NASA astronauts, engineers and scientists over to the North East to engage with the local schools. By sponsoring and committing resource in employees to help organise this (and other local events!) Apollo once again live up to their core values of Safety, Attitude, Future and Enjoyment.
Now, almost three years into my career at Apollo, the COVID-19 global pandemic and another devastating oil price crash is resulting in sudden industry job losses. We can only hope that this downturn recovers quicker than the 2014-2016 crash and that the operational efficiencies that were made then will soften the blow of this current downturn. The Government's furlough initiative is also crucial right now – with things changing so rapidly the furlough option provides a bit of financial breathing space whilst the world continues to fight to bring this pandemic under control. Furlough is an option I believe companies should be using rather than jumping to cut their numbers.
Luckily for me, Apollo were in a strong position with an order book not hit by as many cancellations as maybe initially feared and are continuing to win further work, however it is important for Apollo and everyone else in the industry that this downturn recovers quicker than last time – this week's agreement between OPEC producers and allies is a good start as it should end the price war. The industry now needs to dig deep and ensure it is ready for the increased global demand of oil once the COVID-19 pandemic is over.