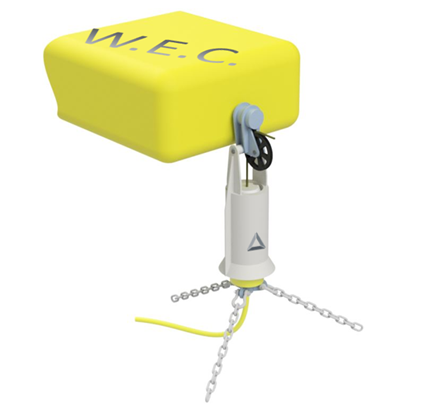 Apollo have been further shortlisted to 1 of 4 companies chosen to share a £1.4 million investment to develop quick connection systems for Wave Energy Scotland.
The project was developed in order to develop technology to enable the quick connection and disconnection of wave energy converters, reducing costs and improving reliability.
Apollo's PALM connector uses a passive locking mechanism that provides the connection and load transfer between the wave energy convertor (WEC) and its moorings. This function is purely mechanical and requires only the input of a suitable deck winch on the installation vessel.
Commenting on the awards, Tim Hurst, managing director of WES said:
"This programme will develop technology that will reduce the cost of wave and tidal energy and ultimately help marine energy play a part in Scotland's net-zero future".
"Connecting and disconnecting devices quickly and remotely will increase safety in offshore operations, and the wider potential for these technologies is significant across offshore and subsea applications."
Marine & Offshore Director, Nigel Robinson said "I am thrilled that Apollo has made it through to the next round of the WES Quick Connector Programme.
In Stage 1 we sought to bring learning from the Floating Production sector to develop a quick connection concept suitable for wave energy devices.
The highly dynamic marine environment demands robust, effective design and we really enjoyed tackling that challenge with our Pull and Lock Marine (PALM) connector.
In Stage 2 we will be working closely with developers of wave energy converters and key technical partners to perform a full front end engineering design study.  Onsite trials will very much be in our sights.  It is an exciting engineering project, and also good news for the North of Scotland which has a world class energy resource just off its shores.  I'd like to thank our technical partners and the team who have got us to this stage."
This award continues to highlight Apollo's work across the energy transition and renewable sector and establishing Apollo as one of the most trusted engineering partners.
To learn how Apollo can add value to your project, speak to someone in our renewables department today at renewables@apollo-oe.com