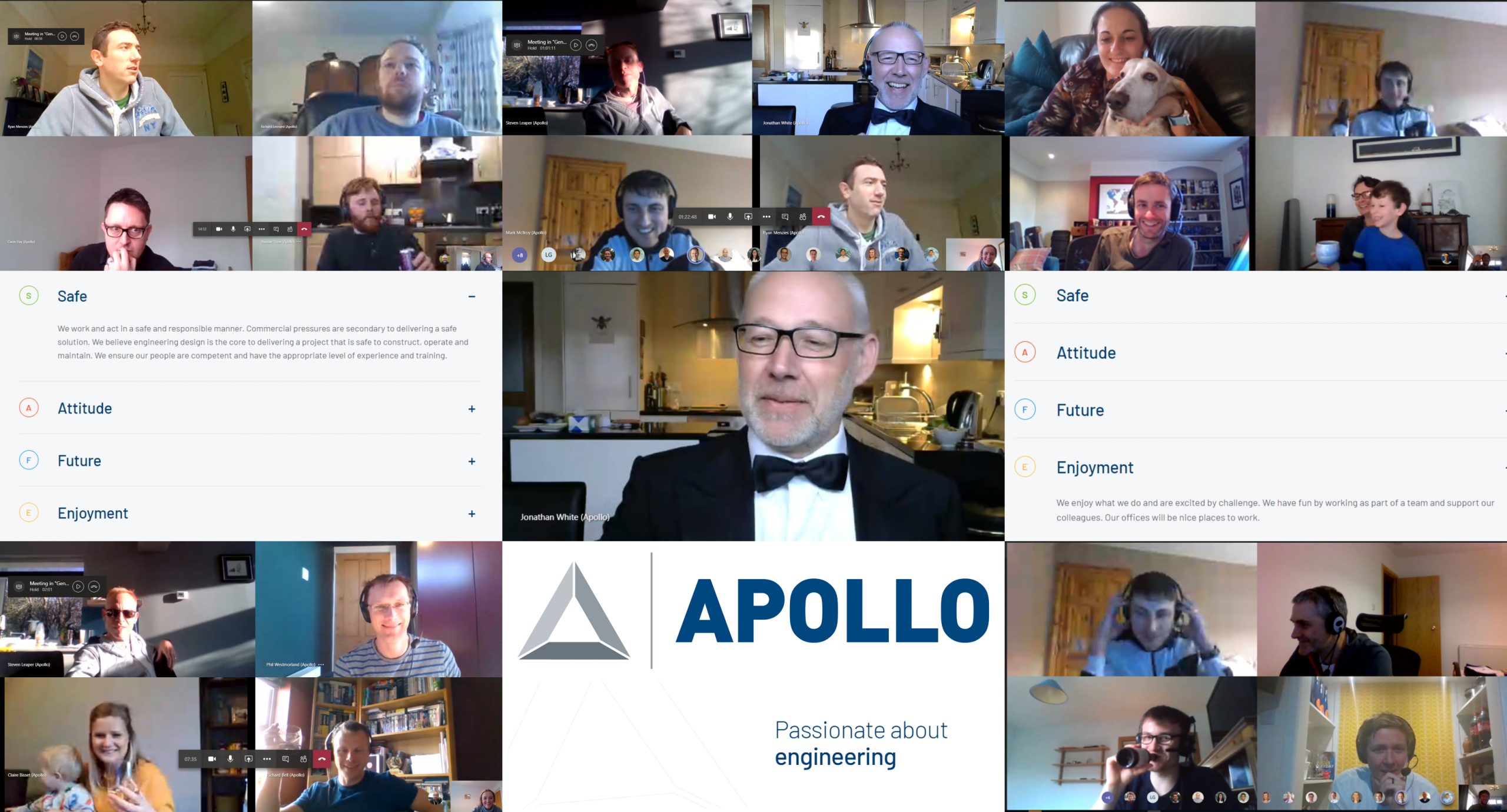 Apollo are now entering our third week of working from home and we are incredibly proud of our colleagues, clients and the industries response to this new working environment. Our team has gone above and beyond to make sure our clients are looked after and continue to deliver an uninterrupted service.
At Apollo, we live true to our values, and just because our environment has changed our values remain constant. We live true to the value Enjoyment and worked hard to create that environment in the office, and we are working just as hard to maintain our unique culture, even when working from home.
If you know Apollo, you will know that the last Friday of the month is when we reward staff with an earlier finish and a couple of drinks to thank them for everything they do. We kept up with our traditional end of month drinks and celebrated with a remote quiz, hosted by our Business Development Director, Jonathan White. The response we got from the quiz has been fantastic and now we are looking to host remote games, quizzes and get-togethers every Friday.
Now more than ever is a time to focus on our health and Apollo are dedicated to ensuring the physical and mental health and wellbeing of our employees. As well as regular socials, we have reinforced flexible working policies remotely. For example, encouraging the spread of working hours to ensure that they can spend time with family at home and make the transition to remote working easier, continuing the encouragement of those people that exercise over their lunch break to continue to do so and the continued encouragement to take regular breaks.
Most of our employees have daily calls with their Line Managers, and we have set up a buddy system to ensure that everyone is checked on.
As everyone focuses on living true to the value of safe operations and maintaining the safety of their employees Apollo encourages companies to focus on the mental health of their employees also and helping to support the transition to working from home and to ensure that the fun aspects of the office can carry on at home!
We would also like to give a huge thanks to all of those working on the front line that are helping ensure that we all can try and live as normally and safely as possible. We would be lost without you.
Everyone stay safe and see you soon.